GenerateBlocks 1.2.0 is a feature update that contains a handful of new features and ensures full compatibility with our huge GenerateBlocks 1.5.0 release.
Let's take a look at what's new.
Better Style Pasting
You can now copy styles from one block and then paste those styles to multiple blocks at once! This is a pretty big timesaver when it comes to sharing styles between blocks.
You can also now clear all styles from a block with a single click.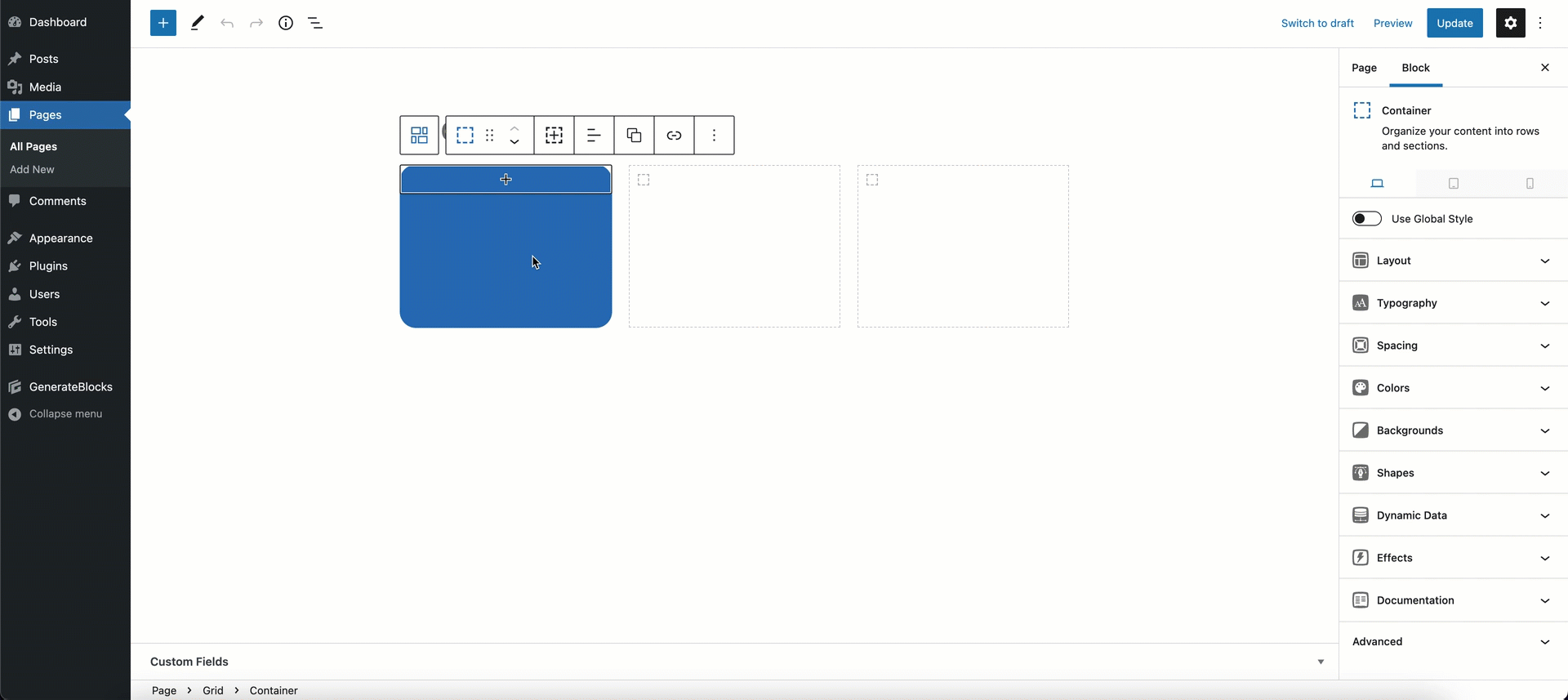 ---
Global Style Improvements
You can now add labels to your Global Styles. These labels are displayed in the select dropdown when choosing a Global Style for a block, which can make it much easier to choose the right style.
You can also clear local styles from a block now when you give it a Global Style. This allows the full Global Style to take effect without having any local styles overwrite them.
---
Image Block Support
We've added some of our Pro features to the new Image Block in GenerateBlocks 1.5.0. This means you can now use features like Effects and Custom Attributes on our very own Image Block!
---
More Custom Attributes
You can now use our Custom Attributes feature on the Grid and Button Container blocks.
---
Template Library -> Pattern Library
We've changed the name of our Template Library to Pattern Library. This also means "Local Template" are now called "Local Patterns".
We believe this name better describes what these patterns are, and this name change also brings us more in line with what WordPress core is calling them.
---
Full Changelog
Take a look at everything that has changed in this version.
Important: This update adds compatibility with GB 1.5.0
New: Apply paste styles feature to multiple selected blocks at once
New: Global Style labels
New: Add clear local styles button to global styles
New: Add clear styles to Styles toolbar item
Fix: PHP notices when not using old opacity slider in box/text shadows
Tweak: Change Template Library name to Pattern Library
Tweak: Add Effects to GB Image Block (GB 1.5.0)
Tweak: Add Global Styles to GB Image Block
Tweak: Add Custom Attributes to GB Image Block
Tweak: Add Custom Attributes to Grid block
Tweak: Add Custom Attributes to Button Container block
Tweak: Reduce container link z-index
Tweak: Close effects panel and toggle off when all deleted
Tweak: Add support for new color component
Tweak: Remove old colorOpacity from Effects
Tweak: Add Container link support for dynamic links (GB 1.5.0)